Item # 3080022 - Eye Droppers for scent application
Free Freight, NZ$ 11.50/ pack of 3
Item # 187001 - 3ml Syringes - Perfect for adding measured quantities of scent into the wax. Pull the top back to draw the liquid into the measured syringe - medical grade.
Free Freight, NZ$ 5.80/ pack of 3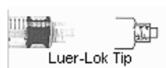 ---
WAX
Paraffin 143. This is available per kg, by the 5kg slab or in a 25kg box. If you're outside NZ then please contact us for pricing.

Soy Wax

- EcoSoya Quantum Wax is designed for pillar candles with a melt point of 46.1C.
CB-135 Soy Wax is a blend of soy beans and botanical oils to make a soot free wax. Designed for container candles with a melt point of 50C.
If you're outside NZ then please contact us for pricing.
Beeswax Block - This is available per 30gm block (approx) or per kg. For quantities other than in lots of 3, contact us for pricing.
Beeswax Crinkle Sheets, Item # 272010 - 20 x 42cm - pack of 6 - Free Freight, NZ$ 29.30
Gel Wax - 23oz Jars, Item # 3080000- Free Freight, NZ$ 69.90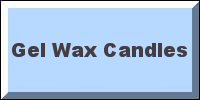 Wax Thermometers, Item # 745021- Free Freight, NZ$ 33.60
---
SPECIALIST WAXES
Candle Fitter Adhesive - 14 pieces - makes any candle fit any sized holder
Tear off a strip and begin to wrap around the base of the candle, flattening the wax to the desired thickness as you go. The Candle Fitter Adhesive will grip the sides of the holder to give the candle stability. Reuseable once the candle has burnt down.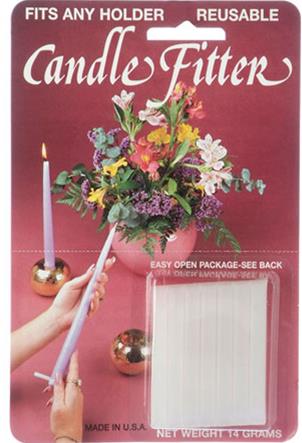 Free Freight, NZ$ 8.40
Letter Sealing Wax - 4" long with wick.
Black, Burgundy, Copper, Forest Green, Lilac, Metallic Blue, Metallic Gold, Red, Royal Blue, Royal Purple, Silver, Victorian Blue, White.
Bottle Sealing Wax Coloured (FDA approved) - per kg. The shopping cart doesn't like part kilos so for quantities that are not a straight kilo please contact us.
Black, Blue, Burgundy, Green, Gold, Red, White, Yellow - dip your bottle into the wax then plunge into cold water for a glossy, wax covered top. Excellent for preserving corks and other stoppers and to reduce air flow through the stopper.
Star Dipping Wax - Item # 3082120 - Contact us for availability

A unique blend of wax specially formulated to produce a starburst effect. Made to be an overdip wax. Do not pour into moulds or containers. Just dip your candle and watch the stars appear!!!
Wax Sheets - per pack of 8. Sheets 20 x 10cm.
Fold and shape to create individual candles or embellishments - instruction sheet included.
Colours are listed below.
Item # 3082303

Black, Chestnut, Dark Olive, Khaki Green, Mocha, Pumpkin, Scarlet, Tangerine
NZ$ 28.95
Liquid Candle Lamp Oil - Item # 3082150. 16oz bottle. Highest quality smokeless and odourless candle oil for hours of relaxation. Can be coloured with Liquid Candle Dye. Because this item is highly flammable it is only available to New Zealand customers.
Free Freight, NZ$ 27.20
---
ADDITIVES
Translucent Crystals

Helps to raise the melting point of the wax to allow the candle to burn longer. Produces more vivid colours and helps to eliminate surface bubbles. Translucent Crystals are particularly effective when embedding wax chunks or other items in the candle. Use 1 tablespoon per kilo of wax.
Item # 745006 -

100gm packets
Item # 745009 - 1kg packets
Item # 745011 - 5kg packets
NZ$ 12.25
NZ$ 54.65
NZ$ 255.20
---
Stearic Acid / Stearine -
Item # 745002 -250gm bags
Item # 745003 -1kg bags
Item # 745001 - 5kg bags
Item # 745012 - 25kg bags

Improves finish and burning quality. Use 2 tablespoons per kilo of wax for pastel colours. 8 tablespoons per kilo will produce a lighter candle.
---
Release-o-Wax -
Item # 745018 - 60gm bags
Item # 745019 - 1lb bags.

Non-toxic. Does not affect the colour and ensures easy release from a mould. Use 1 teaspoonful per pound of wax.
---
Vybar -
Item # 745024 - 230gm bags
Item # 745022 - 460gm bags
Item # 745023 - 2.27kg bags.

Helps eliminate bubbles and mottling, increases hardness and surface gloss. Gives candle colours a creamy, more pastel appearance. Use 1 tablespoon per kilo of wax.
---
Snowflake Oil - Item # 3081272 - 8oz bottle.

Mottling Oil for Sub-surface crystal effect.
The number of Snowflakes will vary depending upon the amount of oil in the wax and the amount of Snowflake oil added. Add 5 tablespoons of Snowflake Oil to 2 pounds of wax. This will give a scattered appearance - more oil will increase the concentration.
Do NOT add Translucent or Opaque Crystals to this product as they absorb oil.
Snowflake Oil - NZ$ 9.95
---
CANDLE MOULDS
We have access to a huge range of metal, plastic and rubber candle moulds available or you can make your own with silicon rubber.
Make your own moulds with this food grade silicone - odour free, non-toxic and FDA compliant. The finished moulds are flexible, reuseable, have no shrinkage, are self-releasing (with most uses) with a heat range up to 204 degrees Celsius (400 F).
Silicone Putty is ideal for impression moulds. Putty has a 3 minute work time with a 25 minute cure.
Silicone Rubber is brushable and pourable to create blanket, glove or block moulds. This has a 45 minute to 1 hour working time with a 24 hour cure which can be adjusted by applying heat.
| | |
| --- | --- |
| Item # 7533700 and 7533710 | Item # 7533720 |
| | |
| | NZ$ 155.20 with free freight - 1lb pack |
Item # 3081146
Item # 3080260
Taper Candle Dipping Frame

Metal frame for dipping up to 6 taper candles at once. Wrap wick around the arms of the frame. Adjustable arms make candles up to 13.5" in length.

Free Freight, NZ$ 169.95

Dipping Vat - 6 x 15"

This 2 piece vat can be used for dipping up to 4 taper candles with a taper dipping frame as well as almost any dip and carve application. It can also be used as a water bath container for metal and plastic moulds up to 4" diameter and 14" high.

Free Freight, NZ$ 210.30

Mould Stand only, Item # 2380014 - 6" white plastic stand. Free Freight, NZ$ 13.20
Side Clamps only, Item # 2380012 - 12" long Free Freight, NZ$ 13.80

Miracle Seal, Item # 2380521 - This Miracle Seal will stop any leak in any type of candle mould, metal, plastic, rubber, etc. It will create a permanent repair in minutes. A must for any candle making studio. It is black in colour and comes in 2.5" x 4" section. Free Freight, NZ$ 12.00
Mould Weight Item # 2380000 - A flexible 1 foot length of 0.25" Diameter Lead. Ideal for weighting down metal and plastic candle moulds when cooling in water bath. Simply wrap the length of lead around the base of the mould before setting in water bath. Contact us for availability
---
CANDLE BOOKS
---
CANDLE STICKERS & WAX WRAPS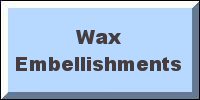 INKJET DECAL PAPER
Specially formulated Water decal paper for candle and soap crafts for use with an Inkjet printer. Can also be used on Plastic, Glass & model cars & airplanes just like regular decals. Use to colour copy your favourite photos onto and make unique keepsake candles and soap. Packet of 2 sheets. Each sheet is 8.5 x 11".
Item # 3081720 - Plain (white background)
Item # 3081721 - Clear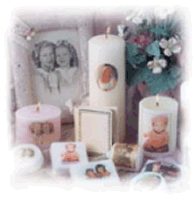 Decal Paper - pack of 2 sheets
INSTRUCTIONS
Print your design using an ink-jet printer then spray the entire sheet with an acrylic gloss spray.
Cut around your desired decal design by cutting approximately ¼" halo around the image.
Place decal in a shallow bowl of warm water for approximately 30 seconds.
While the decal is soaking, dip the tip of your finger in the water and lightly wet the area of the candle where the decal will be put. This will make the decal slide on more easily.
Carefully take the decal out of the water with the paper backing still attached and place it on the candle. Lightly hold one edge of the decal in place and slide the paper backing out from under the image.
While the decal is still wet, carefully adjust it and smooth out any wrinkles or air bubbles with the tip of your finger and gently dab off excess water with a paper towel. The decal is very fragile at this point. Handle delicately.
Allow candle and decal to dry completely before using.
NOTE
: Decals will come off the candle if scratched, gouged, or handled too roughly. Otherwise they should last throughout the life of the candle.
---