CANDLE STICKERS, WAX WRAPS, & CANDLE DECALS
---
CANDLE DECALS
---
---
INKJET DECAL PAPER
Specially formulated Water decal paper for candle and soap crafts for use with an Inkjet printer. Can also be used on Plastic, Glass & model cars & airplanes just like regular decals. Use to colour copy your favourite photos onto and make unique keepsake candles and soap. Packet of 2 sheets. Each sheet is 8.5 x 11".
Item # 3081720 - Plain (white background)
Item # 3081721 - Clear
Pack of 2 sheets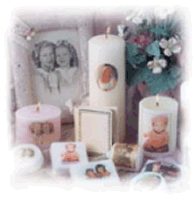 INSTRUCTIONS
Print your design using an ink-jet printer then spray the entire sheet with an acrylic gloss spray.
Cut around your desired decal design by cutting approximately ¼" halo around the image.
Place decal in a shallow bowl of warm water for approximately 30 seconds.
While the decal is soaking, dip the tip of your finger in the water and lightly wet the area of the candle where the decal will be put. This will make the decal slide on more easily.
Carefully take the decal out of the water with the paper backing still attached and place it on the candle. Lightly hold one edge of the decal in place and slide the paper backing out from under the image.
While the decal is still wet, carefully adjust it and smooth out any wrinkles or air bubbles with the tip of your finger and gently dab off excess water with a paper towel. The decal is very fragile at this point. Handle delicately.
Allow candle and decal to dry completely before using.
NOTE

: Decals will come off the candle if scratched, gouged, or handled too roughly. Otherwise they should last throughout the life of the candle.
---