RUBBER STAMPING
---
The History Of Rubber Stamps

Prior to the rubber stamp, there were metal printing stamps, usually made of brass. These preceded the rubber version by six to eight years. We remember them in the form of seals, used with wax to ensure the privacy of documents. The seals themselves were generally very elaborate. The word 'stamp' is used to refer to a marking device.

There is some confusion surrounding the production of the first rubberstamp. In America, Charles Goodyear discovered the process by which rubber is cured in 1844, while he was experimenting in his kitchen. He dropped a mixture of rubber and sulphur on to a hot stove and found that it was still flexible the next day. The process was dubbed vulcanisation after Vulcan, the Roman god of fire.

The birth of the rubber stamp was closely entwined with early dentistry. Vulcanised rubber, set in plaster moulds, was used to make cost-effective denture bases. Dentists had their own round vulcanisers, called 'dental pots', which would be used, eventually, to manufacture the first rubber stamps.

In 1866 James C. Woodruff started experimenting with a vulcaniser, trying to make some letter moulds. He asked his uncle, who was a dentist, for help and advice and after additional experiments with the 'dental pot', the first quality 'art stamps' were created.

The first picture stamps came in the form of educational stamps. German artist Kurt Schwatting, as early as 1919, used artistic stamps in his collages. The home of 'art stamps', as they are often called, is California, where they have been popular for over sixteen years, and there are specialist shops just selling art stamps. With the increase in workshops and demonstrations over the last few years, the craft has grown tremendously.

Some truly wonderful effects are achievable with art stamps, both by those who are creative and those who are not.

Taken from the book Rubber Stamping - Search Press 794-4

The Special Collections Department of the University of Iowa has some interesting information on alternative traditions , including rubber stamps and there are, of course, many rubber stamp companies who can assist you with unique or off the shelf stamps.
---
Stamp pads are available individually in the following colours.
Item # 10228103 - Violet
Item # 10228105 - Cherry Red
Item # 10228112 - Royal Blue
Item # 10228114 - Barn Brown
Item # 10228117 - Butterscotch
Item # 10228119 - Grand Cranberry
Item # 10228120 - Green Leaf
Item # 10228123 - Sepia
Item # 10228124 - Sugarloaf Green
Item # 10228127 - Mossy Stone
Item # 10228128 - Sunshine
Item # 1890111 - Black - for metal
Item # 1890112 - Rust - for metal
Contact us for availability on these
Item # 4145270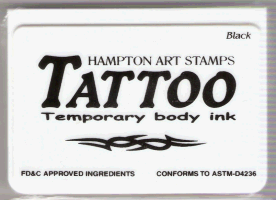 Black Tattoo Ink Pad
---
---
---