Quilling, or paper filigree, is thought to date back to the 15th Century. Italian and French nuns were the first to make these delicate designs of rolled paper. They cut narrow strips of paper with gold edging from book pages and rolled them on feather quills. Shaping them into various rolls and scrolls, the nuns created ornate borders for their religious pictures and articles.
During the 18th Century Quilling became a popular art form for fashionable young ladies in England. It was taught, along with needlework and other handwork, and encouraged as a proper pastime for their leisure hours. Coats of Arms and a variety of pictures were made with quilling and it was also used to decorate tea cadies, trays, cribbage boards, boxes and even furniture. Some examples of this period may be found in the London Museum and in the Victoria and Albert Museum.
Quilling spread from England to the American colonies and seemed to be most popular in the New England area. Many of the surviving pieces of quillwork were done on candle sconces. Often the quilling was combined with shells, wax flowers, twisted wire and mica, which gave a sparkling effect to the whole design in the candlelight.
Passage taken from Designs in Quilling by Malinda Johnston
---
QUILLING BOOKS
| | | | |
| --- | --- | --- | --- |
| Item # 2020102 | Item # 2020105 | Item # 2020106 | Item # 2020113 |
| | | | |
| Designs in Quilling | Designs in Quilling Book 4 | Designs in Quilling Book 5 | Quilling Elegant & Easy |
---
Item # 2020129

Item # 3922049

Item # 3927979
Item # 3929904

Paper Quilling for the Weekend

Three Dimensional Quilling

The Craft of Quilling
Quilling - Techniques & Inspiration

Free freight, NZ$ 47.90
---
Item # 4033001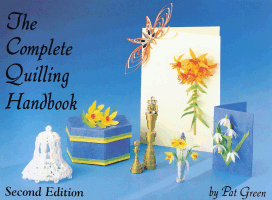 The Complete Quilling Handbook
Free freight, NZ$ 49.90
---
QUILLING TOOLS & KITSETS
Item # 2020168
Item # 2020169
Item # 1486243
Item # 1486242
Quilling Board / Workboard
Quilling Board / Designer Template with a Quilling Tool

Free freight, NZ$ 22.50

Plain Quilling Tool - 29mm prong

Free freight, NZ$ 9.50

Slotted Metal Quilling Tool

Free freight, NZ$ 9.90
---
Item # 4900090
Item # 2020176
Item # 4030002
Item # 4030003
Item # 4032003
Quilling Fringer Tool 90 degree
Quilling Fringer Tool 45 degree

Free freight, NZ$ 131.20

Quilling Fringing Scissors - with screw for consistent depth

Free freight, NZ$ 49.90

Drilled Template
Plastic Quilling Tools (Set 3)
---
Item # 2020200
Item # 2020201
Quilling Starter Kit
Filligree Quilt Quill Kit
---
Item # 2020203
Item # 2020206
Item # 2020212
Item # 2020217
Children's Prayer Quill Kit

Free freight, NZ$ 23.20

Woven Ornaments Quill Kit
Alphabet Sampler Quill Kit
Birth Announcement Quill Kit
---
| | | |
| --- | --- | --- |
| Item # 2020228 | Item # 2020244 | Item # 2020261 |
| | | |
| Christmas Angels Quill Kit | Gift Tags for all Occasions Quill Kit | Snowflakes Quill Kit |
---
| | | |
| --- | --- | --- |
| Item # 2020281 | Item # 2020282 | Item # 2020286 |
| | | |
| Pretty Posies Quill Kit | Little Critters Quill Kit | Quill A Quote Kit 1 |
---
| | | |
| --- | --- | --- |
| Item # 2020287 | Item # 4034003 | Item # 4034004 |
| | | |
| Quill A Quote Kit 2 | Autumn Designs Card Kit | Winter Designs Card Kit |
---
| | | | |
| --- | --- | --- | --- |
| Item # 4035002 | Item # 4035004 | Item # 4037002 | Item # 4039001 |
| | | | |
| Panda Mobile | Fish Mobile | Kingfisher | Spring Flora |
---
QUILLING PATTERNS
| | | |
| --- | --- | --- |
| Item # 40304001 | Item # 40304002 | Item # 40304003 |
| | | |
| Wild Spring Flora | Wild Summer Flora | Wild Autumn Flora |
---
QUILLING PAPER
Item # 2020303Q - 1/4" white -50 pieces
Item # 2020376 - 1/8" Multi Watercolour -100 pieces
Item # 2020377 - 1/8" A Touch of Gold (Multi Colours with Gold on one edge) - 100 pieces
Item # 2020378 - 1/8" A Touch of Silver (Multi Colours with Silver on one edge) - 100 pieces
Item # 2020390 - 1/8" Parchment Variety -108 pieces
Item # 2020401 - 1/8" Silver - 50 pieces
Item # 2020402 - 1/8" Gold - 50 pieces
Item # 2020403 - 3/8" Silver - 50 pieces
Item # 2020404 - 3/8" Gold - 50 pieces
Item # 2020410 - 1/8" Pearlized Gold - 50 pieces
Item # 2020410Q - 1/4" Gold - 50 pieces
Item # 2020410W - 3/8" Gold - 50 pieces
Item # 2020411 - 1/8" Pearlized Silver - 50 pieces
Item # 2020411Q - 1/4" Silver - 50 pieces
Item # 2020411W - 3/8" Silver - 50 pieces
Item # 2020413 - 1/8" Pearlized Multi - 80 pieces
Item # 2020423 - 1/4" Jeweltone Multi - 60 pieces
Item # 2020431 - 1/8" Glistening Multi -60 pieces
Item # 2020432 - 1/4" Glistening Multi -60 pieces
Item # 2020490 - 1/8" Specktacular Multi - 120 pieces
Item # 2020491 - 1/4" Specktacular Multi - 120 pieces
Item # 2020492 - 3/8" Specktacular Multi - 120 pieces
Item # 4031001 - 2mm Assorted - 175 pieces
Item # 4031002 - 3mm Assorted - 175 pieces
Item # 4031003 - 3mm Xmas - 175 pieces
Item # 4031004 - 3mm Pastels -120 pieces
Item # 4031005 - 3mm Satins -120 pieces
Item # 4031006 - 3mm Blues - 100 pieces
Item # 4031007 - 3mm Greens - 100 pieces
Item # 4031008 - 3mm Yellows - 100 pieces
Item # 4031009 - 3mm Reds - 100 pieces
Item # 4031010 - 3mm Purples - 100 pieces
Item # 4031011 - 3mm Browns - 100 pieces
Item # 4031018 - 3mm Black - 100 pieces
Item # 4031019 - 3mm White - 100 pieces
Item # 4031022 - 3mm Silver & Gold Satin - 60 pieces
Item # 4031023 - 3mm Silver, Gold & Bronze Satin - 60 pieces
Item # 4031024 - 5mm Assorted - 175 pieces
Item # 4031029 - 10mm Assorted - 175 pieces