FABRIC FIXTURES
---
STICKY BACK, WASHABLE VELCRO
Sticky back Velcro brand dots - 25 x 19mm ovals, 8 or 16/ pack.
VELCRO Brand Sticky Back for fabrics is an easy to peel and stick fastener that provides a permanent bond to fabrics with no sewing, gluing, or ironing required. Washable and permanent. Made in the USA.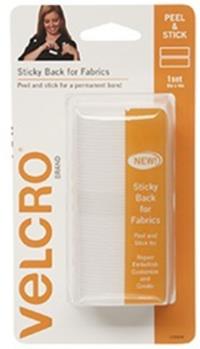 ---
STRAP TRAP
StrapTrap is an award winning bra strap retainer.
Simply stitch the StrapTrap into a dress (1) and slip the bra strap through (2). The dress and straps stay attached and aligned, so there is no slipping and showing. They are quick, neat and easy to fit .
Strap Trap has been carefully designed and manufactured in the UK.

They are designed to fit most bra straps up to 1.5cm.(3/4") .

Being made of particular polypropylene they are washable, dry cleanable, flexible and durable.

Strap Trap is available in black or white
Item # 154002 - Strap Trap - mixed pack of 6 Black and 6 White. NZ$ 19.90 with free delivery.
Item # 154004 - Strap Trap - strip of 6 White. NZ$ 10.60 with free delivery
Item # 154005 - Strap Trap - strip of 6 Black. NZ$ 10.60 with free delivery.
---
---