LOCKER RUG HOOK
---
Item # 9833919
Locker Rug Hook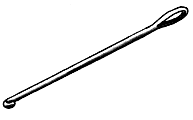 Locker Hooking is a fast easy craft for all ages. The technique involves drawing wool, roving or fabric strips through a rug canvas with the Locker Hook. An excellent way to use leftover wool, fibres or cloth (made into strips). It is also known as Anchored Loop Rug Hooking.
Free Freight NZ$ 29.20
Thread the needle with a strand of the wool attached to the ball being used.
Pass the needle through the canvas from the underside drawing up a workable length of wool.
Now pass the hook downwards through the next hole and draw up the loop of wool.
Carry the loop on the hook and proceed in the same manner to the following holes until there are 8 or 10 loops on the hook.
Draw the needle through the loops & the thread which is carried in the eye will lock them on the top side of the canvas.
Proceed as before and when the first strand of locking wool is used up, cut a length from another ball & stitch to the end of the used locking wool, thus avoiding knots in the work.
7 x 50gm ball of of 6 ply wool will cover approx. 1 square metre of rug canvas. Canvas with a mesh of 16/ " is the most suitable with 6 ply wool.