Little Tom - Clothing and more for premature and smaller babies.
ALL-IN-ONES
These All-In-Ones feature loops on the shoulder and side. Should the baby require oxygen or lead wires these loops will hold them securely in place.
This looks better and makes it harder for little hands to pull and dislodge the wires.
The garments open down the front and along the arms with hook & loop closures (Velcro type) for easy access and nappy changes.
Made in Peru with 100% combed cotton - 3 - 6lb (1.3 - 2.7kg)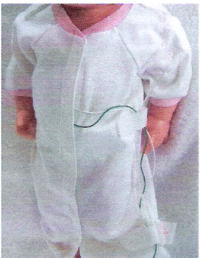 Item # 1004000
Item # 1004003

Item # 1004000 -

Pink Tabbed All-In-One with White Trim

Item # 1004001 -

White Tabbed All-In-One with Pink Trim

Item # 1004002 -

White Tabbed All-In-One with Blue Trim

Item # 1004003 -

Blue Tabbed All-In-One with White Trim

Pink Tabbed All-In-One

Free freight, NZ$ 39.90

Blue Tabbed All-In-One

Free freight, NZ$ 39.90
Item # 1004002
Item # 1004001
White Tabbed All-In-One - Blue

Free freight, NZ$ 39.90

White Tabbed All-In-One - Pink

Free freight, NZ$ 39.90

---