LEATHERWORK
---
---
Item # 1373061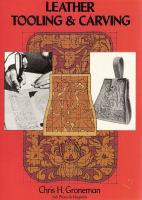 Leather Tooling & Carving
---
Item # 7491170

Item # 7491171

Item # 7491231

4 Hook Nickel Key Plate

6 Hook Nickel Key Plate

Nickel Bolo Slide

Delivery included, NZ$ 5.30
---
Item # 7491300

Item # 7491442

Item # 8617856

Gilt Finish Bag Clasp

Delivery included, NZ$ 9.40

19mm Tri Fold Wallet Insert

Bolo Tip
(Nickel or Gold)
---
Item # 43360001 - 2oz/ 59.1ml
Considered as the most effective and heavy-duty glue around E6000 works on more surfaces than almost any other adhesive available in the market. It will adhere to wood, metal, glass, leather, rubber, vinyl, ceramics and many plastics. E6000 Clear Glue is a perfect tool for jewellery application because it dries clear and is paintable. In addition it is waterproof flexible and non-flammable. Guaranteed to deliver "industrial strength " E6000 Clear Glue may be applied on high-wear areas.
Delivery included, NZ$ 36.50

E6000 - Clear Glue
---
Leather and Sheepskin are not stock items however they can be ordered for you.
Please contact us with your requirements - to give you a guide, 3mm Russet Tooling Leather is about NZ$ 550/ 25 square feet. This is sold by the hide and is available by the full hide or by the shoulder which is about 12 square feet.
Shearling Sheepskin (great for under saddles) has about 20 - 25mm of wool length on the skin. A skin is about 7.5 square feet and is a flat price, regardless of the size which does vary slightly.
Item # 103005 - Shearling Sheepskin, Delivery included, NZ$ 165.00
Item # 1280004
Item # 1280005

Leather Belt Blank

38mm wide, approx 3mm thick and 2.2m long

Vegetable tanned

NZ$ 69.95

Leather Belt Blank

45mm wide, approx 3mm thick and 1.2m long

Vegetable tanned

Delivery included, NZ$ 52.70
---