IRON ON MOTIFS
---
IMPORTANT: Read all instructions before beginning.
FOLLOW INSTRUCTIONS ON PACKET EXACTLY.
INSTRUCTIONS:
Wash and dry garment to remove any sizing.
Set your iron on polyester setting. Preheat iron, NO STEAM.
Iron the garment, press well to remove all wrinkles.
Position the transfer on the garment. The colour design should be facing you (Plastic on Front). Cover the transfer with a sheet of paper.
Iron the transfer, pressing VERY firmly and steadily, constantly moving the iron back and forth for 15 seconds. DO NOT MOVE THE IRON IN CIRCULAR MOTIONS.
IMPORTANT: Allow transfer to cool completely.
Seal the edges (remove sheet of paper and iron firmly along each edge for 5 seconds each.
IMPORTANT: Allow transfer to cool completely.
Peel up one corner of the plastic to check for adhesion. If the transfer is still attached, IMMEDIATELY replace the plastic and repeat steps 5-8.
Remove the plastic starting at one corner. Pull firmly and steadily.
Wait 24 hours before wearing. This allows the transfer to adhere properly.
Wait 3 days before washing. Hand wash, line dry. DO NOT DRY CLEAN.
---
Sequin Motifs
| | | | | |
| --- | --- | --- | --- | --- |
| Item # 3154385 | Item # 3154386 | Item # 3154387 | Item # 3154388 | Item # 3154389 |
| | | | | |
| Ladybug | Green Sunglasses | Pink Bikini | Pink Dress | Ace of Hearts |
---
| | |
| --- | --- |
| Item # 3154391 | Item # 3154394 |
| | |
| Blue Daisy | Martini |
---
Glitter Motifs
| | | |
| --- | --- | --- |
| Item # 3152004 | Item # 3152005 | Item # 3152006 |
| | | |
| Purple Martini | Party Martini | Cafe |
---
| | | | |
| --- | --- | --- | --- |
| Item # 3152007 | Item # 3152008 | Item # 3152013 | Item # 3152015 |
| | | | |
| Score Soccer | White Flower | Crown - 2" High | Cherry - 2" High |
---
Item # 3152017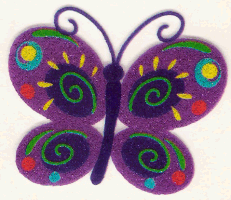 Butterfly -
2" High
---
| | | |
| --- | --- | --- |
| Item # 3153008 | Item # 3153037 | Item # 3153045 |
| | | |
| Butterfly - 4¾" High | Angel - 5" High | Best Friends Poodle - 5½" High |
---
IRON ON Motifs
| | | |
| --- | --- | --- |
| Item # 26420054 | Item # 2642006 | Item # 2642007 |
| | | |
| Car | Helicopter | Train |
---
| | | | |
| --- | --- | --- | --- |
| Item # 2642156 | Item # 2642163 | Item # 2642164 | Item # 2642202 |
| | | | |
| Zoo Animals | Boy Sitting | Girl Standing | Frogs |
---
| | | | |
| --- | --- | --- | --- |
| Item # 2642172 | Item # 2642174 | Item # 2642176 | Item # 2642177 |
| | | | |
| Dog | Frog | Bear | Bunny |
---
| | |
| --- | --- |
| Item # 9880392 | Item # 9880397 |
| | |
| Paddington Walkman | Paddington Beach |
---
---