ENAMELLING
---
Enamelling has been practiced for over 2000 years, and now improvements in enamels have brought it within the reach of all. All enamel powders are lead free.
---
TRANSPARENT ENAMEL POWDERS
These powders are designed for use on copper, gold and silver. They have been ground to pass through a 60s mesh (250 micron) sieve and fire well at 800 centigrade. All packs are 25gm.
Item # 6130401 - Lime Green (401)
Item # 6130403 - Light Brown (403)
Item # 6130404 - Amber (404)
Item # 6130405 - Mix Brown (405)
Item # 6130422 - Electric Blue (422)
Item # 6130425 - Copper (425)
Item # 6130427 - Turquoise Green (427)
Item # 6130428 - Dove Grey (428)
Item # 6130430 - Budge Green (430)
Item # 6130431 - Turquoise (431)
Item # 6130432 - Turquoise Blue (432)
Item # 6130459 - Mauve (459)
Item # 6130467 - Ruby (467)
Item # 6130468 - Orange (468)
Item # 6130469 - Royal Blue (469)
Item # 6130473 - Mid Blue (473)
Item # 6130477 - Clear Flux (477)
Item # 6130492 - Bronze (492)
Item # 6130499 - Dark Brown (499)
Please contact us for availability
---
OPAQUE ENAMEL POWDERS
Item # 6130600 - Black (600)
Item # 6130608 - Dark Green (608)
Item # 6130610 - Red (610)
Item # 6130613 - Royal Blue (613)
Item # 6130617 - Sky Blue (617)
Item # 6130623 - Ivory (623)
Item # 6130637 - Dark Blue (637)
Item # 6130640 - Lavender Blue (640)
Item # 6130644 - Pale Blue (644)
Item # 6130661 - Spring Green (661)
Item # 6130663 - Mid Blue (663)
Item # 6130664 - Celadon Green (664)
Item # 6130667 - Lapis Blue (667)
Item # 6130671 - Chestnut (671)
Item # 6130676 - Bright Orange (676)
Item # 6130686 - Grass Green (686)
Item # 6130687 - Mauve (687)
Item # 6130693 - Grey (693)
The colours shown below are in stock, for others, please contact us for availability
---
BOOK
Item # 3925611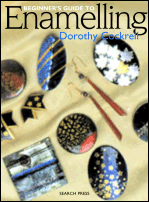 Beginners Guide to Enamelling
---
COPPER BLANKS AND JEWELLERY FINDINGS
Item # 6134001
Item # 6134002
Item # 6134003
Item # 6134005
Item # 6134017
Medium Dome Teardrop
Large Dome Teardrop

35 x 50mm

Free freight, NZ$ 10.90

Plaque Dolphin
Oval Dome 30 x 40mm

Free freight, NZ$ 8.90

Pendant Diamond

35 x 35mm

Free freight, NZ$ 6.50
Item # 6134020
Item # 6134036
Item # 6134040
Item # 6134041
Pendant Star 25 x 25mm

Free freight, NZ$ 4.95

Dome Heart Shape

Free freight, NZ$ 5.50

Round Pendant 32mm

Free freight, NZ$ 7.90

Round Pendant 26mm
Item # 6135002
Item # 6135003
Item # 6135004
Ring Gilt or Nickel

Ring Gilt

Free freight, NZ$ 11.50/ 2

Ring Nickel

Free freight, NZ$ 13.40/ 2
---
TOOLS & ACCESSORIES
Item # 6131000
Item # 6132000
Item # 6133000
Item # 6133001
Item # 6133002
Item # 6133060
Image not Available
Cellular Adhesive
Scrolling Tool
80 mesh Sieve

Free freight, NZ$ 36.20

Small Stilt
Tripod with Base

Free freight, NZ$ 46.50

60 mesh Sieve
---