BARGELLO
---
History of Bargello
Bargello is a form of needlepoint in which (typically) only straight stitches are used, usually in geometric patterns. Popular patterns usually involve using many shades of one colour in rows (which produces intricate shading effects) shaped into squares, diamonds, hearts etc. The patterns are naturally geometric, but could also resemble stylised flowers or fruits. Flame shaped patterns are also very popular. Bargello is worked in one direction or can be worked in four directions that all merge at the centre of the fabric. The name originates from a series of chairs found in the Bargello Palace in Florence which had a flame stitched pattern.
Bargello was very common in the 17th and 18th centuries, especially for purses, chairs and furniture. Many beautiful patterns date back to these centuries. Traditionally it was executed in wool on canvas (although today Perle cottons are popular). Embroidery done this way is remarkably durable, it is well suited for use on pillows, upholstery and even carpets but not for clothing. In most traditional pieces all stitches are vertical with stitches going over two or more threads.
Can also be called Florentine work, Hungarian Point or Flame Stitch.
---
Item # 8850038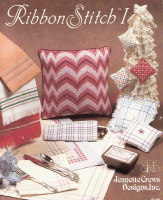 Ribbon Stitch I
---