JEWELLERY
---
---
FINDINGS
Our range of Jewellery Findings is shown below. Click on the button to view images of each finding.
---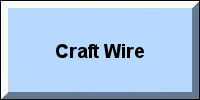 ---
Item # 3923273
Item # 9880534
Tiaras and Hairpins

Create exquisite tiaras and hairpins using gold and silver wires and crystals.

Twenty different designs and an alternative version of each one that can be made using the same techniques.

Free freight, NZ$ 17.95

35mm Wooden Toggles (12 pieces)

Free Freight NZ$ 12.90
---
Item # 1481144
Item # 1485789
Item # 1488569
Item # 389002
Easy Eye Beading Needle with a flexible hole in the middle - pack of 2

Free Freight, NZ$ 6.40

Cheese Cloth - 100% cotton for polishing. 1.22 square metres

Free Freight, NZ$ 7.30

Bead Mat - 8 x 8"

Free Freight, NZ$ 9.90

Bead Mat - 15" x 15" - pack of 3

Free Freight, NZ$ 18.80
---
Item # 43360001 - 2oz/ 59.1ml

Considered as the most effective and heavy-duty glue around E6000 works on more surfaces than almost any other adhesive available in the market. It will adhere to wood, metal, glass, leather, rubber, vinyl, ceramics and many plastics. E6000 Clear Glue is a perfect tool for jewellery application because it dries clear and is paintable. In addition it is waterproof flexible and non-flammable. Guaranteed to deliver "industrial strength " E6000 Clear Glue may be applied on high-wear areas.

Free Freight, NZ$ 29.60 - NB only for sale within NZ

E6000 - Clear Glue
---
Item # 4333358
Item # 43310025
3 5/8" Rustproof Memory Wire - 4 rounds

Free Freight, NZ$ 8.40

Thing-a-Ma Jig - Free Freight, NZ$ 24.90

Allows for wire to be formed - a clear plastic 3 x 4" jig which can be placed on top of your design. Includes plastic pegs and 2yd of copper, silver and gold craft wire along with basic instructions.
---
Item # 151135
Item # 1480518
Item # 13024200
Item # 4330200
Silver Polishing Cloth - inner cloth cleans, outer polishes. 28 x 35.5cm

Free Freight, NZ$ 25.90

Clock Mechanism with 3 hands - 7.9mm shaft, 7cm hand set.

Free Freight, NZ$ 35.60

Blue Bead Reamer

Free Freight, NZ$ 9.90

Thread Cutter with Cover

Free Freight, NZ$ 13.30
---