WATER APPLIED DECALS
---
It's easy and fun to add a hand painted look to all your craft work, decoupage, furniture, kitchen items etc. When applied, these decals look like an actual painting. Turn recyclables into works of art. Make tin cans, old bottles, plastic containers etc into useful and decorative items.
Each sheet is 160mm x 200mm
Easy to apply. Just follow the directions below:-
Step 1. Dip in warm water for 30 seconds.
Step 2. Slide decal off backing paper, face up onto item being decorated.
Step 3. Smooth out air bubbles, work from centre toward outside edges.
Step 4. Allow to dry for 12 hours before use.
Note: Newly painted surfaces should be thoroughly dry before applying decals. For outdoor use, one or two coats of varnish should be used to seal from the elements.
For inside of a glass: dip in warm water for 30 seconds, place colour side of decal against glass, slide backing off, smooth out water and air bubbles from under decal, wash off adhesive.
---
---
INKJET DECAL PAPER
Specially formulated Water decal paper for candle and soap crafts for use with an Inkjet printer. Can also be used on Plastic, Glass & model cars & airplanes just like regular decals. Use to colour copy your favourite photos onto and make unique keepsake candles and soap. Packet of 2 sheets. Each sheet is 8.5 x 11".
Item # 3081720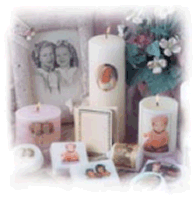 Decal Paper
---
---